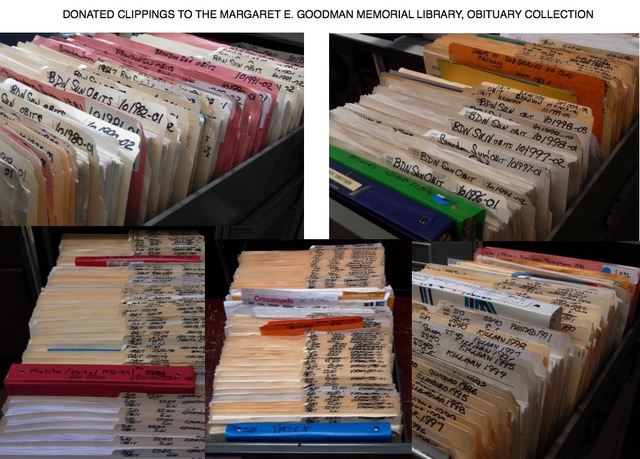 Southwest Branch Obituary Collection
In 1978 members of the Brandon Branch started to clip and paste newspaper obits from Newspapers in the SW Branch Area. These obits are kept in file folders by Newspaper and Year in our library. Our members have been entering the names and dates from these collections into  databases with the plan to have searchable files for researchers. See the list below for the files that have a digital index. We will be adding files to this as the files are digitized.
In our collection we have Scrapbooks and Personal Collections from the SW Manitoba Area.
See list below for Newspapers in our collection that have been indexed – At present these file are held at the MEG library. Our volunteers will do a search to find a specific obituary. We need the location, surname and approx year.
Contact us at:  swmbgenealogy @gmail.com
SW Manitoba Obituary Search: Specific search $5 per search in indexed Newspapers ; Non-indexed or off-site newspaper research have extra costs.Some files have the complete obituary, others are extracts or an index only.
To search PDF for Windows CTRL + F, for Mac CMD + F
Baldur/Belmont – 1991-1993
Brandon Sun – 1900-1939, 1946, 1948, 1972, 1973 (Extracts and Indexes)
Brandon Sun – 1979, 1980, 1982-1993
Brandon Sunday Sunday – 1987
 Carberry – 1979-80, 1980, 1981-82
Crossroads – Rossburn/Birtle 1991, 1993 (not complete years)
Deloraine – 1982-1990
Glenboro – 1986-87
Hamiota – 1989, 1991, 1993
Killarney – 1991-93
Melita – 1980-3, 1982, 1983-1987, 1990 – 1993
Minnedosa – 1979-81,  1987-91, 1993
Neepawa –
Oak Lake – 1991-1993
Pilot Mound – 1991-92
Reston – 1991, 1993
Rivers – 1991, 1993
Rossburn – 1992
Shoal Lake – 1991, 1993
Souris – 1981-82, 1987, 1990-93 these represent both the Souris Plainsman & Souris Valley News
Southern Manitoba Review – 1992
Strathclair – 1992
Virden – 1988, 1989, 1991, 1992
Scrapbook and Personal Collections
Carberry – 100 years
Melita – 1973-1984 years
Multi Newspapers Collections – 1979-81, 1983-84
Russell/Foxwarren – 1957-62, 1967-1978